Garden Safety
Although electricity makes gardening much easier, wet conditions and contact with the ground means that the risk of injury or death from electric shock is much greater than the risk from using electrical equipment indoors.
Fit RCDs (Residual Current Devices)
An RCD is a potentially life-saving device that protects against electric shock and reduces the risk of electrical fires. Without it, if you cut through an electrical lead, a simple job like mowing the lawn could kill you. Any socket that may be used to plug in a lawnmower, hedge trimmer or other power tool should have RCD Protection.
Garden Ponds – Make sure electric pumps don't electrify the water
The risk of electric shock is higher when there's water about. Incorrectly installed or damaged mains supplied pumps can result in injury or death to you, your family or even your fish. A mains supplied electric water pump in the garden should be:
Good quality
Protected by an RCD and tested at least every 3 months
Installed in accordance with manufacturers' instructions
Maintained in good working order
Safer Garden Lighting
Garden lighting is commonplace, but can create a safety risk if not properly installed. For mains supplied lighting in the garden follow these simple suggestions:
Buy good quality electrical outdoor lighting equipment
Suitable for outdoor use
Ensure light fittings in water features are waterproof
Use a registered electrician
Check regularly for damage
Keep equipment maintained
Before changing any lamps, make sure you switch off the power supply.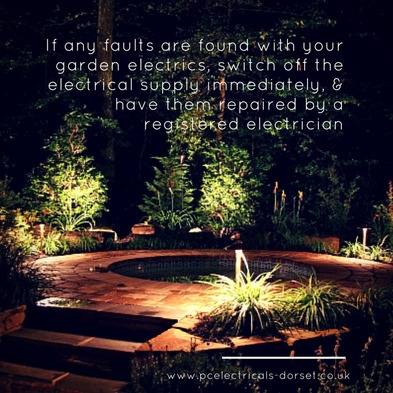 By following simple safety rules every time you work in a garden, you can easily avoid a serious accident.
Tips:-
Fit RCD's in sockets that may be used for garden appliances.
Cut the grass, not the cable
Garden lighting can be a great feature, but can be a safety risk if not properly installed.
Check the condition of extension leads.
Garden ponds and their pumps must be installed correctly, damage can result in injury, or death, to your fish or family.
Never:-
Use electrical equipment in the garden when it is raining.
Clean, adjust or check equipment while it is connected to the electricity supply.
Touch damaged equipment and cables before switching off the electricity supply.
Try to repair equipment yourself.
Wash equipment with water – unplug the equipment and clean it with a dry cloth.
Use electrical equipment while barefoot or wearing sandals.
Leave electrical equipment plugged in while you are not using it
PC Electricals strongly recommend you use a registered and qualified electrician to carry out any work that needs doing. Registered electricians will work to the UK national safety standard and will give you a safety certificate to confirm that the installation has been designed, built, inspected and tested in line with that standard.