According to Electrical Safety First did you know that DIY errors cause half of all serious electrical shocks in the UK?
Electrical Safety First's survey discovered that nearly half of all severe electric shocks are caused by DIY attempts, with the main errors including cutting through power leads, drilling into wiring and repairing electrical items while they're still switched on.
In addition, a survey of registered electricians a third said they had seen or been involved with fixing electrical DIY mishaps that had resulted in fires, serious electric shock or significant repair costs.
Many people now turn to Google or YouTube to search for DIY tips, but how do you know you are getting the right advice?
Electrical Safety First's 'Don't Die for DIY' campaign is promoting the fact that you cannot always rely on the electrical DIY information and advice you find online.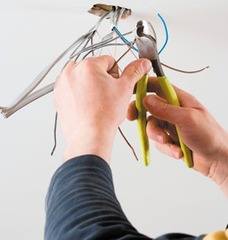 Tips:-
Find where the cables are in your walls.
Use an Residual Current Device. An RCD can save your life by cutting off the power in the event of an electrical fault.
Turn off the power.
Inspect your power tools and watch out for the trailing lead when using them.
Speak to a registered electrician. The best way to avoid any electrical problems in the home is to seek the advice of a professional. If you're not sure, don't DIY.